My Bookish Adventures is a monthly recap of the things that happened to me and this blog. It includes the books that I have read, the reviews that I have posted, my TBR for the next month, life updates, announcements, and many more.
Because I've been very busy with #Adulting, this post features a two-month recap.
---
#Adulting
August was my job-hunting month. I prepared my resume and submitted by application to the company where I had my internship. Thankfully, I got accepted! ❤
September became by document-processing month because I had to submit a lot of papers and other documents I needed for my job.
And that's why I've been very busy.
Well, that's not all.
The world of subscriptions
In August, I discovered Audible, Scribd, and Netflix.
I decided to sign up for the free trials of Audible and Scribd because Ms. Mina announced the Iris After the Incident audiobook. It's the first audiobook from #romanceclass, so I really wanted to support it.
However, I ended up finishing the e-book instead because I didn't have enough quiet for listening. I was (almost) always on the move because I had to go to government offices for the memberships I needed for my job, and I was also getting called in the office.
Plus, I (finally) decided to sign up for Netflix because of  To All the Boys I've Loved Before (hello, Peter Kavinsky – I mean, Noah Centineo). And because I wanted to make the most out of my free trial, I ended up finishing a Korean drama (A Korean Odyssey) and I also watched movies almost every night.
Some of my current Netflix faves include:
BOOKS READ:
AUGUST
SEPTEMBER
BOOK REVIEWS POSTED:
Heartstruck by Angeli E. Dumatol: ∞
OCTOBER TBR:
UPDATES/ANNOUNCEMENTS:
The Kiss Quotient PH Blog Tour
I would like to thank everyone who supported the #TKQPHBlogTour! Helen is really happy to see the reviews and creative posts. ❤
You can see all the blog tour stops here.
All the hearts for #FeelsFest2018! ❤
#MCYourself2018 is the official theme for the annual October event of #romanceclass, and I am more excited than this GIF: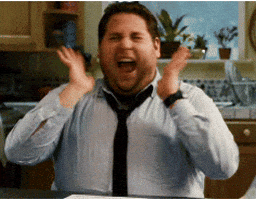 No entrance fee this time, so grab your chance to an afternoon of feels!
If you see me, don't be afraid to say hi! I might have to warn you that I'm slightly bad with faces, so maybe mention your Instagram/Twitter username? 🙂
Hope to see you there! ❤
---
That's it for my August-September wrap-up! If you have read any of the books above, leave a comment below so we can talk! ❤